Firecrackers bring joy, sorrow to Sping Festival
The return of fireworks to traditional Lunar New Year celebrations brought much joy to revelers, but also sorrow to some parts of the nation.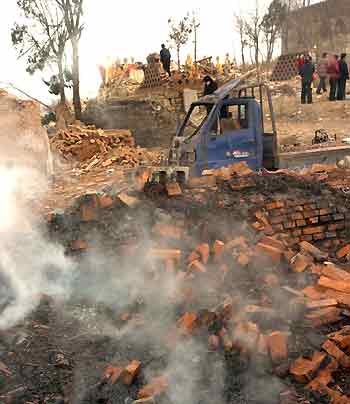 The scene of the fireworks blasts is seen in Central China's Henan Province on January 31, 2006.[Xinhua]
In Beijing, where a 12-year ban on fireworks had just been lifted, explosions injured 112 people, said the State Administration of Work Safety, quoted by Wednesday's China Daily.
Seventeen people suffered serious eye injuries, and another 26 were admitted to hospital with various types of wounds.
According to the Beijing News Daily, the city's environmental protection bureau collected 458 tons of waste fireworks on Jan. 29, the first day of the Lunar New Year.
In Chongqing Municipality, southwest China, firefighters rushedto extinguish 191 fires caused by fireworks on the Lunar New Year's Eve.
About 3,000 firefighters gave up the chance to spend the holiday with their families to remain on duty.
Experts said the lifting of the ban would help preserve traditional Chinese culture. But others said the return of fireworks would lead to more serious pollution, fires, injuries and deaths.
On Sunday, an explosion in Linzhou, a city in Henan Province, central China, killed 36 people and injured 48 others.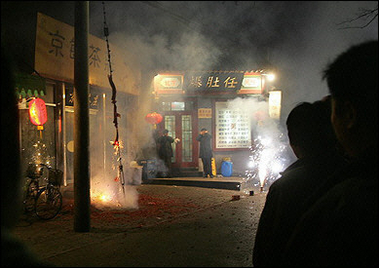 Fireworks are lit during loud celebrations moments after midnight in an old Beijing neighborhood near the ancient Bell Tower. [AFP]
The explosion occurred when firecrackers in a storehouse were accidentally ignited, the State Administration of Work Safety saidin a statement.
Although there were disagreements, the governments in more than100 Chinese cities lifted the ban on fireworks last year.
Beijing also lifted the ban after a survey found that 70 percent of residents felt fireworks made the holiday period more festive.
The new rules allow Beijing residents to explore fireworks all day and all night on Jan. 28, and from 7 a.m. to midnight every day from Jan. 29 to Feb. 12.
With the aim of ensuring safety, about 3,000 police and community officers have been sent to patrol off-limits areas such as schools, retirement homes and sites of historic relics.